Kinnity Castle
We spent our Halloween Weekend at Kinnity Castle in Co. Offaly this year. We had talked about spending Halloween in a spooky setting for some years and decided that we would take the bull by the horns this year. It is said that Kinnity Castle is haunted, and I have no reason to doubt that it isn't. Over the two days, we were taken to two other nearby, reputedly, haunted castles; Leap and Charleville.
Leap Castle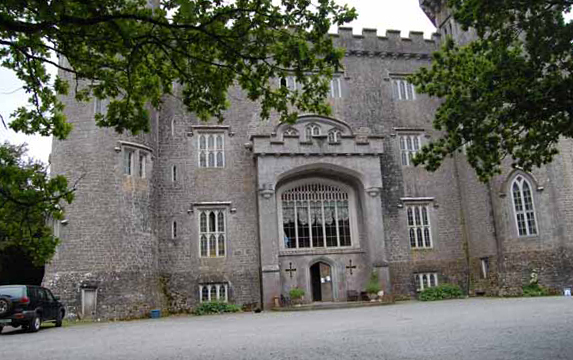 Charleville Castle
The earliest evidence of human habitation in Ireland is 6500 BC at Lough Boora, County Offaly just 15 minutes drive from Kinnitty Castle. These early nomadic men would have hunted and gathered on the edge of the then lakes which have now turned to peat bogs and would also have lived for times in the Slieve Bloom Mountain range which commands expansive views of the country.
Renowned for being the birthplace and early home of legendary Finn MaCool along with being the spawning ground of the Salmon of Knowledge which brought him the wisdom of the world, the Slieve Blooms rolling hills inspire.
Salmon of Knowledge
The Castle has a long and colourful history which dates back to ancient times. Located on an ancient druidic ceremonial ground, where leylines cross and mystical forces are prevalent, the area around Kinnitty can be considered to be the solar plexis chakra of Ireland.
Born in Munster in the 6th century, Saint Finnian was a disciple of Saint Brendan, at whose wish he founded and governed a monastery at Kinnitty (Cean-e-thich) in Offaly of which he is the patron (Benedictines, Farmer, Husenbeth). This monastery was part of an extensive monastic network across Offaly including Clonmacnoise, Durrow & Rahan, which were among the main 'learning centres' of Europe in their day. Subsequent raids by the Vikings led to their decline. The High Cross associated with St. Finnian's monastery which is now located directly beside the castle, depicts 'the presentation in the temple', 'the crucifixion', 'Adam and Eve' and intertwining birds.
St. Finian
The Normans later built a castle and Augustinian Abbey on the site, the walls of which were incorporated into the Castle and can still be seen to this day.
The Clans of the O'Carrolls of Ely occupied the territory around Kinnitty and are reputed to have had over 40 castles around the 11th century, one of which was located on the motte which is found just behind the current castle. The Castle is one of the strongholds of the O'Carroll family of which one Charles Óg O'Carroll was one of the original signatories of the American Declaration of Independance. The descended family still maintain vast estates in Maryland.
Ely Crest
In 1630 William O'Carroll built a new Castle in close proximity to the Abbey. This was confiscated in 1641 by the English forces as part of the plantation of Offaly or "Kings County" as the county was then known. In 1664 the crown granted an estate, which included Kinnitty Castle, to Colonel Thomas Winter as reward for military service.
Other castles associated with the O'Carrolls of Ely include Leap Castle, owned by Sean Ryan & Emmell Castle in Cloughjordan, owned by Hollywood actor Patrick Bergin, both of whom can be sometimes found in the Dungeon Bar playing with Con of Kinnitty.
Patrick Bergin
The estate was sold by Colonel Winter's descendants to the Bernard family in 1764. It then became known as Castle Bernard. In 1811 Lady Catherine Hutchinson, wife of Thomas Bernard, commissioned the famous Pain Brothers, architects of Dromoland Castle and Adare Manor, to extend the castle to what Kinnitty Castle is today, a gem of neo gothic architecture.
In 1922, as with many stately homes in Ireland, the Castle was burned down by the Republican forces. The Castle was rebuilt in 1928 and the Bernard family lived there until 1946 when it was sold to Lord Decies who in turn sold the Castle to The State in 1951. The State retained ownership until it was purchased by the Ryan family in 1994 and has since been transformed into a luxurious 37 bedroom hotel.
Sean - Owner of Leap Castle
Sean, a tin whistle player, extraordinaire, was a wonderful host for our tour around his castle, which is reputed to be one of the most haunted castles in Europe. We witnessed a seance in Charleville Castle, during which, a chap, who later became a friend, saw a spirit standing next to Emma! WE didn't see any ghosts or spirits over that weekend, but we had a terrific weekend looking for them! There was also a wonderfully well organized Halloween ball on the Saturday night, which was hilarious fun! Here are some pics!!!
Apart from its reputation for being haunted, Kinnity is set in wonderful woodlands, which makes for gloriously peaceful walking.
The decor and ambience in Kinnity are sumptuous, yet casual; a perfect combination, where one feels relaxed, yet pampered. One sneaky look at the boudoir.
Mmmm ..... so, so cosy!
It was pointed out to us by our guide on the way to Leap Castle, that the bush shown in the picture below possesses healing qualities. There are thousands of scraps and rags of prayers tied onto it. Reminded me of the ritual lighting of candles in church for people, or the little iconic tokens (name escapes me at present) left behind in their thousands at the churches in Greece. I tore a piece from the scarf I was wearing that day.
We were advised by our guide to stay at Kinnity as long as we could, because she believes it has enormous powers of healing and cleansing. I totally accept that some people are sceptical of such things, but in a strange way, I have already begun a 'decluttering' process of things that don't MATTER and people who MIND. Kinnity is a perfect getaway place, and I shall definitely revisit. Apart from tasting a piece of Irish history at Kinnity, whilst enjoying a superb ambience; the final and most important plaudit has to go to the manageress and her staff, who are young, 'go-getting'; extremely polite and sincerely welcoming!
Finally, can't resist bragging about the fact that hubbie and myself won first prize for the best fancy dress costumes!
One last picture!
Ok so ... leaving the last word to the menfolk! (Sexist me? ... NEVER!!!)
Addendum: Doll pics inspired by artist/photographer Rebekka Guoleifsdottir's wonderful work
Ciao for now!