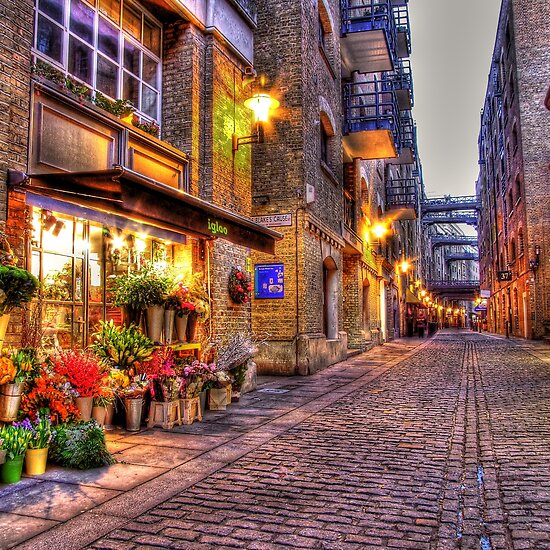 My shop, that was, HOUSE OF MERLIN, used to look not unlike the picture above, although without the bricked wall and cobbled street. It wasn't just a flower shop, in fact, the flowers were an 'add-on' really. I sold everything from dining tables, chairs, pictures, mirrors, to candles, photo-frames, pot-pourri and silver jewellry. Music could always be heard coming from the shop together with the glorious chime of announcement attached to the front door. Valentine's Day, Mother's Day and Christmas were wonderful flower-frenzied fiestas in the shop, which brought their own music; echoes of 'What would you like me to write on your card?' addressed to embarrassed, young and not-so young men, bringing tokens of their love for girlfriends, wives and partners; intimate details exchanged about Mothers; their likes and their dislikes; whispered memories of loved ones, passed into another life. There were 'discussion over coffee' days; planning wedding flowers with swatches of bridesmaid's material, while assessing the bride's personality.
Above, a photograph of two recent wedding flower arrangements. I'm not good at taking photographs of my work, simply because I'm normally rushing like a runaway train towards a deadline, and no matter how many times I plan to be ahead of myself, to enable portfolio pics, it rarely pans out that way. Now that the shop is gone, brought about by recessionary times, I work from home. I have a wonderful shuttered space in the garden, opening out onto our field, our horses and the glory of the Galtees. Mel, one of our horses, stretches his head curiously in towards me, not really to say 'hello', but more to grab a lily or a rose, taking off down the field, with prize fixed firmly between punishing teeth.
I had a wedding last weekend, and worked through the night, except for an hour and a half nap on the sofa. (I recommend 'sofa-nap', by the way, much better than 'bed-nap', which somehow transports into a deeper sleep, thereby creating a larger tiredness, grogginess and irritability upon waking!) Having some flowers left over, and thinking about people I hadn't said 'hello' to for a while, I made up a bouquet and called over to my dear friend Nellie, who lives just down the road from me. At 83, and an ardent horse woman, the racing was on her TV when I called yesterday. I didn't pretend that they weren't left over from a wedding, but she still threw her arms around me, calling me a great girl and that I had made her day. We laughed as I told her she had made my day by calling me a 'girl' at this stage of my middle-age. As I left, we both agreed that we were both 'girls' at heart! As I write this blog on this stunningly beautiful morning, I stopped to make a coffee and there was a gentle knock on the front door. 'Can't be canvassers,' I thought, 'The touch is too gentle!' I opened the door to see a retreating-through-the-gate Nellie, who points to the wreath on my front door. Still in my dressing gown, because ....because...., she thinks she has got up me up out of bed. 'No' I reply, as I confess to the part of me, that she can't see, 'I'm just messing around in the morningness!' She had hung a carrier bag on top of the wreath, housing a brown scone cake that she made at 7am. This isn't just any bread, this is NELLIE'S BREAD! We laugh once more about being 'girls'. Wrapped in her little red car, she drives back down the road to watch athletics on her TV. What a glorious start to a glorious day!
During that pre-wedding night of very little sleep, my music kept me company. My very dear friend Stef had mailed me a gift of the
Ultimate Collection
by Barbra Streisand. It is a terrific album featuring many of Ms Streisand's greatest hits. I want to share this particular live track,
You Don't Bring Me Flowers Anymore
, a duet between Barbra and Neil Diamond.
Flowers
and
even bread, like children in prams and buggies, have a way of inspiring and initiating a dialogue!
Ciao for Now!