My first blog in over three weeks! My production of Andrew Lloyd Weber's
Jesus Christ Superstar
with St. Mary's Choral Society in Clonmel has only three of a nine nights left to run.
Jesus Christ Superstar
is a rock opera and therefore the story is told entirely through music and song. From a technical point of view, this can prove quite difficult for those who are not extremely familiar with the music of the piece, and therefore demands that I, as the director, am holed up every evening in the lighting box with both lighting and sound operators to give cues for changes that occur sometimes on a single note or chord of music. Whilst rehearsing for this production, I suggested that the cast should read the words of the songs and choruses out loud as if they were rehearsing the text from a play, because there is often a tendency to concentrate on 'singing' rather than 'performing'.
The White Memorial theatre is a small, cosy venue which seats approximately 220 people. The stage is relatively small, which raises immediate difficulties for a set designer and director, particularly when dealing with a cast of almost 70. I have always maintained and will continue to do so as long as I draw breath, that the chorus of ANY Musical production, 'make or break' a show. I have attended productions, where it is patently obvious, that the director has concentrated purely on the front line performers and stuck the chorus on here and there almost as an afterthought. In such cases, the director has probably just asked the ladies and gentlemen of the chorus to enter Downstage Stage Left or Right without explaining what their role is within the plot.... 'Just stand there now lads and give us a rousing
Give Me Some Men, Who Are Stouthearted Men'
for example! If one thinks back to Greek Theatre, where it all began, the CHORUS were the barometer and conscience of social behaviour. In other words, they played a hugely IMPORTANT, if not the most INTEGRAL part of the whole piece.
Whether you believe in God or even Jesus,
Jesus Christ Superstar
is an adaptation of one of the greatest stories ever told. What is truly fascinating about the whole story is MAN'S ability to CHANGE his/her affiliations so rapidly and so violently; moving from a festive flock of followers into a menacing, murdering mob! If a chorus is not made aware of how important it is to get a handle on this, an audience is left with a concert performance, not a riveting spectacle of human frailty. Of course, a hanging or crucifixion is going to be unpleasant, but it is the reaction of the chorus ... MAN: the sheer adoration of Jesus in ACT I; their squeezing of Pontius Pilate into the excruciating predicament of dreadul decision-making, that culminates in Jesus's crucifixion at the end of ACT II, that makes the piece so harrowing!
I can empathize with all the characters (even Herod, who is insane!), apart from the Priests, who are only interested in keeping the populus down and their coffers full. One might be forgiven for thinking that little has changed in 2000 years. The AIMS critic attended the show last Tuesday night, and her post show comments were most encouraging. Her plaudits re. the reactions; the 'turning' of the Chorus excited me most. To see the their faces following her remarks after all their months of hard work and trust, was an absolute joy!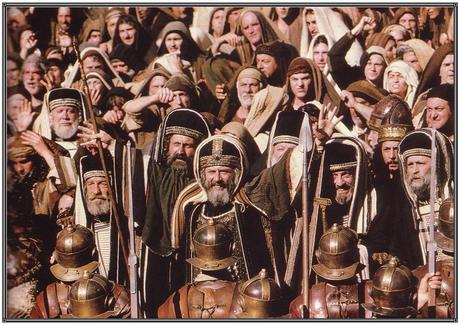 The Musical Director, Laura Cotter and myself were extremely fortunate to be able to cast this show from within the rank and file of St. Mary's Choral Society, with no requirement, for example, to seek a Jesus or a Judas, which are both extremely demanding roles, both vocally and dramatically, from 'outside'. We have a front line and chorus that any musical society in the country would give their hind teeth for. The set designed and built by Judas (Diarmuid Vaughan) is a spectacular tour de force, allowing for glorious pictures, which are lit beautifully by Gerry Taylor's lighting design. Three more nights to go. The show is booked out .... ne'er a ticket to be had. That's success ... isn't it!?! The audience are the REAL critics surely.
At a time, where there is so much unrest and unease across the world,
Jesus Christ Superstar
reminds us that even Jesus wasn't perfect! Man by his very nature is imperfect! Complicated aren't we!
Have eaten, drank and slept JC Superstar for the last three months. Actually returned to research for my first novel during the week. Very excited!!!
Ciao for now!