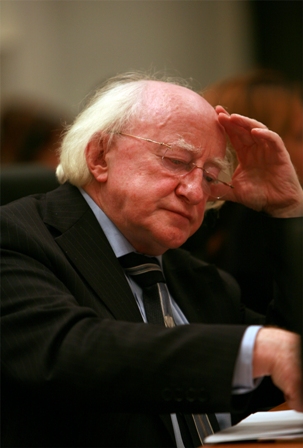 I am absolutely delighted that Michael D. Higgins is about to become the 9th President of Ireland. His victory is sweet and, in my opinion, well-deserved. He is a statesman, an academic, a humanist and an orator of the highest order. He has served the people of this nation as a politician, in an open and often rebellious manner, for decades. He ran an impeccably clean campaign throughout. His unselfish actions secured David Norris' addition to the ballot paper, so that the democratic voice of the electorate and not that of the media would be heard.
I sat in the hairdressers today and met an old friend of mine that I worked with years ago, not long after I moved to this country, but before I had my children. We laughed about some of the fiery discussions we had had back then in the canteen over tea breaks and lunch. This morning was no exception. She put forward the argument that Ireland was too small to have a President; that it was a costly non-essential; and wasn't at all enamoured about the Queen of England's visit to these shores in May of this year. I suppose what surprised the most about our discussion, was her point that Michael D was TOO old for the job, given that this seriously interesting lady is approaching or even already in her 80's. I hastened to respond that there are people running marathons at the age of 100, which makes 70 seem young by comparison. She was having none of it, but I have rarely enjoyed a trip to the hairdresser's as much. There were seven of us ... seven women debating the whys and wherefores of the presidential election; Mike Murphy's interview with Bertie Aherne; Vincent Browne, the master choreographer etc etc. Not a word about fashion, or make-up, or the X Factor! The atmosphere in the hairdressers was charged; filled with good-humoured debate, and it was great great fun! I only went in for a trim, but I came out feeling I'd done the whole spa thing.
Granted, polls had indicated that Sean Gallagher was galloping towards to the Park up until Wednesday, and that it just might have been the
little bitty
prodding given to Mr Gallagher's memory about a certain
little
bitty
brown envelope by Martin McGuinness, that finally ensured Michael D's victory, but Mr. Gallagher was made aware of the unscrupulous dealings of the envelope's donor over recent weeks, and given the fact, that this was the final presidential debate, he was ill-prepared to answer some of the key questions that were raised. Perhaps naively, Mr Gallagher overlooked the fact that the people of this island are ALLERGIC to
little bitty
brown envelopes!
Michael D is NOT TOO OLD for this job, as long as Michael D believes he is NOT TOO OLD for this job!
While I was writing this blog, a song, that I used to listen to as a child by Burl Ives came to mind called
A Little Bitty Tear Let Me Down.
A slight adaptation might read:
A Little Bitty Brown Envelope Let Me Down. (
I am NOT gloating. The right man got the job ... that's all!)
http://youtu.be/gt1U2pAvYIg
Ciao for now!