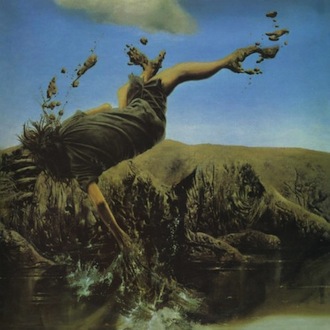 To say that the last two and a half months or so have been challenging, is putting it mildly quite honestly, but at least I'm still here, which is more than can be said for my stepmother, Amy or Mrs. Savita Halappanavar.
It all started at the very beginning of February with a particularly debilitating bout of flu accompanied with a cough from hell. The constant hacking then brought on an eight week struggle with severe back pain. During this time, my stepmother died and her funeral and cremation followed. I spent the Easter Weekend and following week intruding upon and dismantling the shared life of my father, Maurice and his wife, Amy. I had been through this procedure once before when my mum, Daphne died almost eleven years ago. Somehow, this time was different and over the last couple of weeks of afterthought, I believe I understand now.
My mother was not a materialistic person, neither was she a collector of things, so the sorting-through process was not a long one. It didn't stop me howling like a wounded animal though, as I picked up pieces of her life, sitting in the middle of her kitchen floor.
My father married Amy on April 10th forty-three years ago. They were a very united couple and rarely went anywhere without each other and I was glad that my father was happy. He deserved to be. However, and I say this without any self-indulgence, my brothers and I were, for the most part, excluded from this newly-forged alliance. Amy, who had been an incredibly fit woman for most of her life, was gradually worn down by chronic arthritis, which was inoperable, because of poor blood circulation. As it became increasingly difficult for Amy to get around, she became more dependent upon my dad. In spite of a curvature of the spine, dad did what he could for at least a couple of years before his own illness really took hold. Luckily we were able to nurse Dad at home, in his own bed, upstairs, during the last weeks of his life, and at the same time take care of Amy, which we continued to do after Dad's death. Those two weeks were extremely difficult, but on another level, they were beautiful and it was a privilege to be able to take care of this man that we loved so dearly. During those last weeks, I bought my father a portable CD player for his bedroom and played Stefan Grappelli, James Last, Strauss and many more of his favorites. He laughed when he could, he sang when he could and even managed the odd joke, and a sip or two of sherry. He was more like the dad I remembered as a child, during those last weeks. He took my hand on at least two occasions during that time and I will never forget the look of love in his eyes.
Whilst Dad was ill and following his death, I felt I was beginning to get to know Amy. I really did want to. Apart from her obvious physical beauty, I wanted to learn about the other qualities that had so enraptured my father. After dad's death, I organized his funeral; dealt with the paperwork; and wouldn't go home until I'd set up the necessary security and home-care packages for Amy. Once I was back in Ireland, I tried to get over at least once a month. I has only been home for a week in February, when my brother rang to say that Amy had died unexpectedly, but peacefully in her chair at home. At Amy's funeral, I did say a few words about her life because neither her sister, niece or nephew could. Somehow, at least to me, not to say anything felt completely wrong and disrespectful. I wasn't able to talk about Amy in an intimate way, because I didn't really know how she felt about life and things on a deeper level. I spoke about Amy's life in relation to that of my father; their mutual love of ballroom dancing; their many sun holidays; the little I knew about how she coped as the oldest child during the 2nd World War; her extraordinary memory and her love of balancing the books.
When someone close to you dies, apart from the obvious heartache of loneliness, the question of your own mortality comes to the fore. Following a period of reflection, I was blessed with a clarity of thinking and enlightenment. Amy had kept my brothers and myself at arm's length, because we were the product of my father's union with another woman. As the oldest, I was 15 and my brothers were 14 and 11 when Dad and Amy married. Up until that point, we had all been living with Dad in a house that we'd lived in all our lives. We were then forced to live in another house to live with my mother, who, in some ways, was a stranger to me. All three of us spent the following 42 years of our lives feeling that we were on trial; that somehow we were not important or worthy. However, my sudden clarity of thinking told me that, if our mother had been Mother Teresa herself, we would still have been excluded from family events and holidays, that were centred, for the most part, around Amy's family only.
Without trying to sound like a goody-two-shoes, but more from the point of view of someone who has made so many mistakes herself, I genuinely do try to understand what is really going on when one person hurts another; either directly or indirectly, and rarely if ever, do I believe it comes from a position of true malice. My recent poem ,
A Mandolin's Lament
was inspired by Amy's relationship with her father, whom I believe, she saw as an intruder in her idyllic life surrounded by mother and uncles. Since Amy's death, whilst sorting through all their possessions, I have discovered how her father
really
died and it was not through a military confrontation, neither was it influenza, as she had led me to believe. Amy and her mother had kept the circumstances of this man's death to themselves for 70 years, not even telling siblings or other close family members. Suddenly here was a possible explanation for burning Amy's father's belongings, including his beloved mandolin, and so too, perhaps, an insight into the psyche of a woman, whom I believe felt threatened by the love my father had for his three children. We, too, were seen as an intrusion in her world, as was her father.
The untimely death of Savita Halappanavar in a Galway hospital last October, has shaken this small island to its very core, and whilst the whys and wherefores of how it happened are being examined and re-examined, I feel ashamed and horrified, that Savita's husband, Praveen, was forced to stand in a witness box and undergo such a gruesome and intrusive cross-examination. Following on from this, I found the news, that a majority of doctors voted against abortion under any circumstances recently, very difficult to swallow and once again, intrusive.
In my heart, I believe women should be allowed to make their own choices. Unfortunately, those days are a long way off, but in the meantime, let's hope the minister for health, Dr. James O'Reilly and the Government come up with a piece of humane legislation, that is as non-intrusive as possible, whilst allaying the fear of prosecution for doctors and their medical teams, so that what happened to Savita,
never
happens again.
I have never seen yellow gorse in such glorious gold profusion. Gorse or furze is supposed to represent a time for kissing. I have a theory that there has been such a depth of doom and gloom over the last cold months, that Mother Nature is reminding us to reach out, take someone's hand and share the love that lives in our hearts. Be an intruder, but for all the right reasons!
With understanding, comes liberation.
Ciao for now!