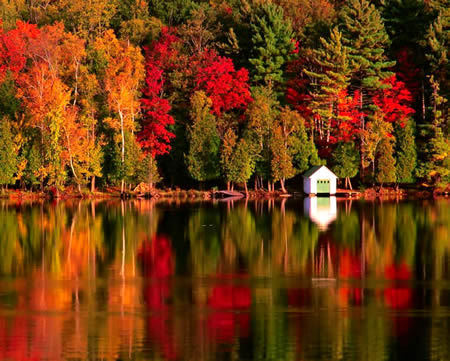 I am like a child these days. This is my kind of weather. Blue skies, cold, colourful days and cosy nights. I am in Beatrix Potter and Kenneth Graham's magical world of hedgehogs, badgers, mice and rabbits busily harvesting rich hedgerow spoils; filling up their larders for the hibernation season. I have seen many beautiful Autumns, but this one has to be the Fionn mac Cumhaill of all champions. I have tried to analyse why my heart feels like its fit to burst each time I see a leaf or two of red, yellow and gold, and why I want to shout out to everyone that I meet and do sometimes, 'Hey, have you ever seen anything quite so magical?' Mother Nature is giving us the works this Autumn. She has witnessed the suffering and despondency of people who have lost out on something or someone over the last few years through no fault of their own. Scientists will explain that the richness of colour all around us is indicative of extra sugar content etc. If that is so, Mother Nature is responsible for providing the most perfect laboratory conditions in order to direct and produce the most uplifting spectacle of colour ever! This Festival that we have all been given free tickets for, brings out the child in all of us. From what we can tell, colours, like music and art were an integral part of communication rituals long before a structured language. Perhaps that's why some of our 'off the Richter-scale' experiences of joy are so difficult to express in words. When the weather is dry, what could be more thrilling and delicious than walking through drifts of leaves; kicking them upwards and watching them fall again for the second time, or gathering armfuls and hurling them towards the gods in spontaneous gratitude for such bounteous gifts.
In a pub somewhere in 20 years, the hard men at the bar will be referring to the great Autumn of 2013 and exchanging tales of where they were and what they were doing at that time.
Autumn Leaves
was one of my late father's favourite songs and this chap Miles Davis does a really fruity version, and I would ask you please to take time to listen. The images on the video are also rather tasty.
Ciao for now!